Mobile Generating Sets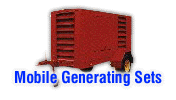 Selfpropelled sets or trailer mounted sets for towing by car or truck, equipped with weather proof steel housing.
Supplied for general purpose for continuous or emergency power supply.
Sound proof
All CON-MEC generating sets, stationary or mobile units can be supplied with a speciel developed sound absorption system, as per requirement.